Back to Detailed Reviews
Review of The Lowepro Fastpack 350
I recently purchased a Lowepro Fastpack 350 for a family vacation to Tennessee. I have 2 young boys and I wanted to find a bag that would carry all of my electronic gear on the plane with us so I didn't have to check any expensive gear. I also wanted to have access to my laptop and iPad on the plane to help keep my boys entertained for the flight. Here's all of the gear I was able to pack into the Fastpack 350.
Canon 30D with vertical grip
17-55 f/2.8
70-200 f/4
10-22
580EXII
Black Rapid RS-7
DMC-Z memory card wallet full of cards
Table top tripod
15" Mac Book Pro
Mouse
Portable hard drive
All in 1 card reader
Canon SD750 point and shoot
iPad (in a case)
Chargers for two phones, iPad, computer, and both cameras
2 sets of headphones
Water bottle in side pocket
Small DVD case with movies for the kids
I was impressed with all of the stuff that fit in the bag. Although I got it up to about 26 lbs of gear, it was still easy enough to carry around the airport even with the kids and car seats in tow.
I like how the camera fit in better sideways. That way when you go to grab it, it is already in the right position. It fit better vertical rather than horizontal. I'm used to the Slingshot style bags where the camera sits horizontal.
The waist support system was a life saver on my shoulders and back. When the weight got to be too much I would just snug up the waist strap and loosen the shoulder straps. Instant relief for my shoulders. Also, the chest strap was nice because I could slide it up and down to adjust where it pulled the straps together. With all of the adjustments, it seemed like there was an endless variety of ways to adjust where the weight was being directed.
It was surprisingly easy to sling the bag around under my arm to change lenses or put away the camera. Certainly better than having to take the bag off all of the way to switch out. It's nice to have point and shoot attached the right side shoulder strap in front.
I couldn't reach the water bottle very well on the side while I was wearing the bag. Not sure if anything could be done to improve that (longer arms maybe).
The padding on the back of the bag is comfortable enough that I don't notice it, which is good.
I like how you can get the camera compartment zippers "hidden" under the flap so they don't accidentally slide open, or someone can't easily get in to it when you aren't paying attention. The zippers are similar to the slingshot system in that the flap when latched acts as a stopper for the zippers so you only open the bag far enough to get the camera out.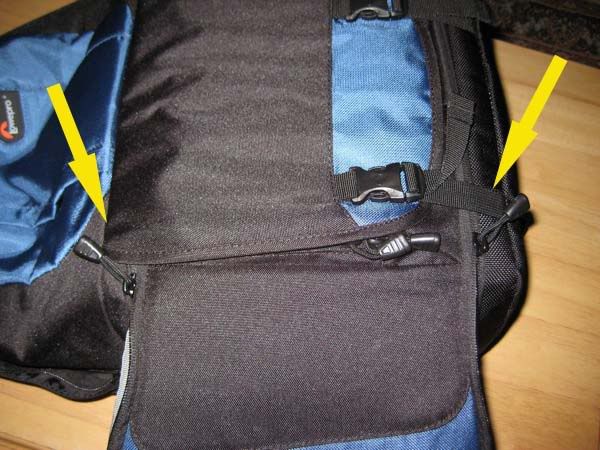 You can see here how the camera compartment opens from the side when you accessing the camera on the go. The zipper stops points as shown above keep the compartment from opening up to far when you just want to grab your camera.
The laptop slot is plenty of space for my 15" MacBook Pro and there is great rigid padding built in for the laptop. I had zero issues with the laptop compartment.
I used the included digital accessory pouch for all of my chargers (2 cell phones, ipad, point and shoot and SLR). It's a nice way to keep them all in one place.
It was comfortable to wear loaded down through the airport. It was also very easy to pull out the iPad and MacBook for security check points. It is carry-on compatible and even slid under the seat in front of me on the plane when it was fully loaded.
I honestly can not think of any features that I would want in this bag that it doesn't already have. One could argue that there could be a tripod holder built in, but it would be very difficult to use the bag as it is intended with a tripod strapped to the side or front of the bag. If I had to name one thing I would like to have on the bag, it would be 2 compression straps on the bottom of the bag for carrying a jacket. On the other hand, the bag sits up very nicely by itself if you set it down on the ground. If there were compression straps on the bottom it would probably not sit up very well.
All in all I am very happy with this bag and I look forward to years and years of use. I would recommend it to anyone who wants a comfortable way to carry camera gear and a laptop plus extra gear such as a lunch and jacket. I think it would be suitable for a day hike or just short excursions to the zoo or playground. As you can see from the amount of gear that I had packed in to it, you could probably carry just about anything you would need for any type of photo opportunity you might encounter.
I hope you find this review useful. If you have any thoughts or questions please send us an email and I will respond. Thanks for reading.
~Cory Anderson